Installation
Installation, use and maintenance instructions
| | |
| --- | --- |
| VIDEO | PDF |
Previous note

The cartridge containing the rollaway sheet of our screens is delivered already placed in the widest of the two vertical profiles of the frame (see installation video to appreciate it clearly). This profile can be placed both on the left side and on the right side. And, once fixed, thanks to its powerful adhesives, you cannot separate it from the wall without damage it; therefore you must decide on which side you are going to fix the vertical profile before doing so.
Installation
Clean and dry the walls for an optimal adherence. Remove the adhesive protection from the vertical profile that supports the rollaway cartridge and fix it to the wall.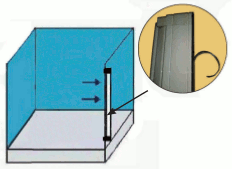 Place the vertical closing profile as shown in the image of the circle, with the L-shaped part facing outwards.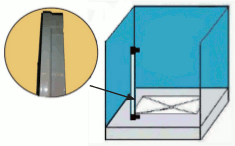 Remove the protection from the vertical closing profile and fix the latter on the wall.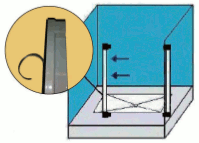 Spread out the guide rails until they are inserted into their brackets.

Insert the guide rail into the corresponding bracket at the same time as the wheel.

Use a 2,5 mm Allen key to tighten the screws that hold the guide rails, with little pressure, to avoid deformations in the aluminium.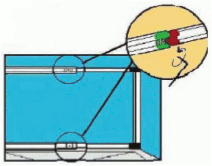 Use
To close
| | |
| --- | --- |
| | Place the lock fastener on the top of the plastic handle, as shown in the picture. |
| | After closing the door, lower the lock as shown in the picture. |
To open
| | |
| --- | --- |
| | Raise the lock until it is on the top of the plastic handle. Next, open the rollaway door. |
Important notes

Shower trays with perimeter flange or plinth higher than the drain
The screen must be installed on top of it. Once installed, it is not necessary to seal with silicone the lower guide rail, nor the vertical sides.
Completely flat shower trays, without perimeter flange
Due to the limited water containment in these type of shower trays, we recommend creating a water barrier by placing a rectangular aluminium tube, white lacquered, with sides measuring 4 x 2 cm., on the access threshold, from wall to wall. Then adjust the rectangular tube to the edge of the shower tray, holding it on with silicone, with one of the 4 cm. faces against the plate; and then you only have to place the screen on top of the superior side of the 4 cm. rectangular tube.
Maintenance

Your bath screen (shower or bathtub) incorporates a self-cleaning system in the rollaway sheet box, and does not need manual cleaning.
For general maintenance, use soap or soft detergents.
---