I couldn't be more satisfied with the screen I bought
Moisés (Barcelona, Spain)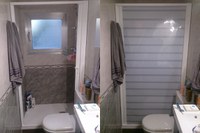 I couldn't be more satisfied with the screen I bought
17th/May/2017
Good afternoon,
I couldn't be more satisfied with the screen I bought
We have a narrow bathroom and we only had a shower curtain to prevent water from leaking, and in most cases, if you move a little in the shower, the curtain does not work either. Traditional screens are O.K., but we don't have room enough to install them properly; the fixed door occupied already half the space and, after consider some projects, any of them convinced us, due to the narrowness of the door.
After we installed the rollaway screen (by the way, very easy to install) we are delighted. We take advantage of the entire space and we don't have to worry about leaks. Now we are waiting twins, we have the full width of the bathroom to use the shower without the screen bother us at all.
100% a wise choice
Thank you so much for everything.
Yours sincerely
Moisés S. V.
PS: I send a couple of photographs with the results.